Here is a list of four surprising and useful places other than clothing, to use Name It Iron On Clothing Labels. Our Iron On Clothing Labels are unique as you iron directly onto the label. They work on clothes but they can also be used on many other items.
Have you thought about labelling these items with our fabulous Name It Iron On Clothing Labels?
1. School Bags & Back Packs
Our twin girls Madeleine and Juliette have just started Kindergarten and they needed a suitable school bag to keep their gear in. I shopped around as usual because I wanted to find a bag that wasn't too big to carry on their little 4-year-old shoulders, something that wasn't too small as I needed to fit in a change of clothes, lunch box and the hat they needed each day. And finally, I didn't want to spend a fortune. My thoughts where they'd probably need something bigger with more compartments when they started school.
All the bags at Kindergarten hang on a big row of hooks at the entrance and so I wanted to pop their names on the bags somewhere obvious for them to see but not too overbearing. I wanted the name on the bag permanently not as a bag tag that could get ripped off.
I used one of their Name It Iron On Labels and easily ironed it on to the front of the school bag pocket. It's easy to see and I thought it actually looks really neat and tidy on the front. Because most school bags are made of a mixture of cotton and/or polyester or nylon, the Name It Iron On Clothing labels work no problem and adhere just like they do to a piece of clothing.
You can use the Name It Iron On Clothing labels on all sorts of bags.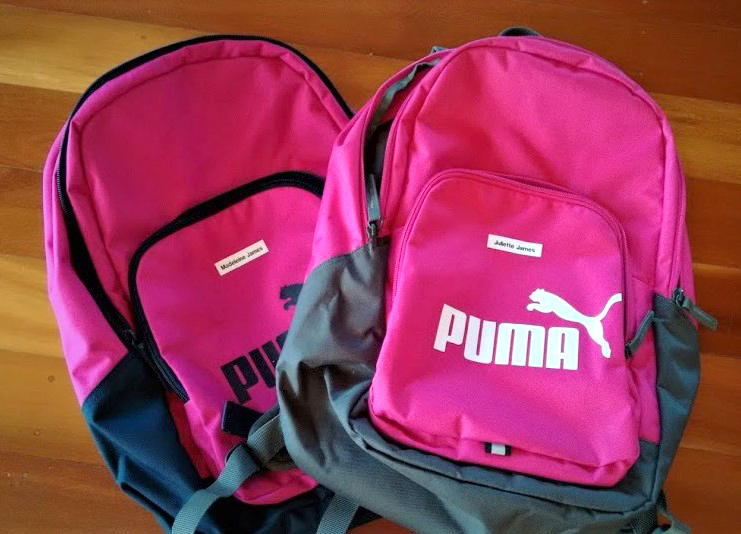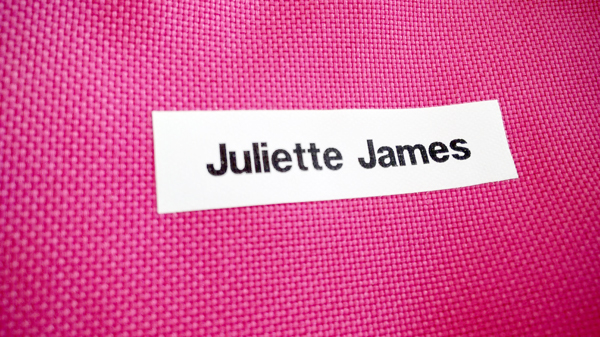 2. Swimwear – Togs, Rash Shirts & Shorts
Summer time! Every time of year when the sun properly comes out I'm reminded how much I love summer. The stone fruit, the flowers on the pohutukawa trees, the smell of sunscreen. Although lately I've started using natural sunscreens as it just doesn't feel right to be rubbing copious amounts of sunscreen into the kids every day and usually up to 2-3x a day depending how often they're playing outside and swimming – I'm no expert but the ingredient list on some sunscreens just looks scary.
So in addition to the sunscreen I've invested in good quality, long sleeve and high neck rash shirts and shorts for Madeleine, Juliette and Annabelle. When the twins were little they wore the full body rash suits when playing in the sand/water. Baby Charlotte tends to just lie under the umbrella as she's not yet walking.
The Name It Iron On Clothing Labels work brilliantly on swimwear. I haven't had a problem yet and I've labelled many sets of togs, rash shirts and shorts. I use a slightly cooler iron for the more delicate fabric. The first time I put the iron on the label and the swimming fabric I used a short burst to just set the label, and then I could iron over again a couple more times to make sure it has ironed into the swimwear. The girls play for hours at the beach and hours in Poppa's swimming pool and at the end of summer the labels are still adhered to their gear. Here are some photos to show what I mean (their swimming hats in particular have had a good thrashing and are so sun faded, but the labels are still adhered).
If your children require swimwear in their school uniform kit, or take regular swimming lessons or even just to clearly label their beach gear for the summer – you can easily use the Name It Iron On Clothing Labels for nearly all items.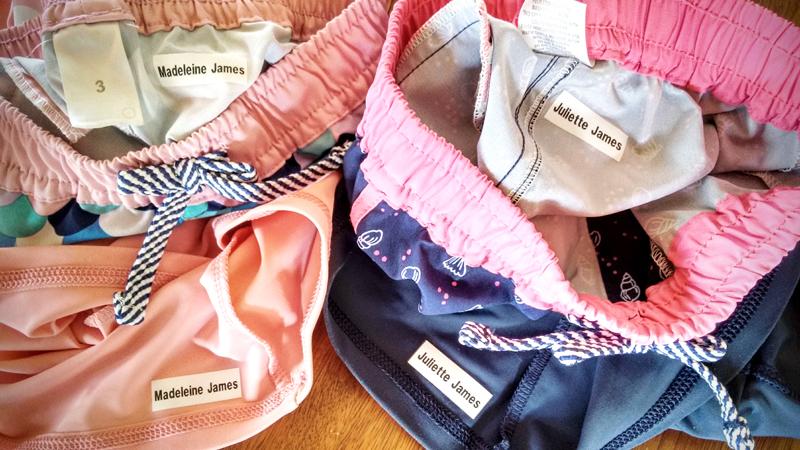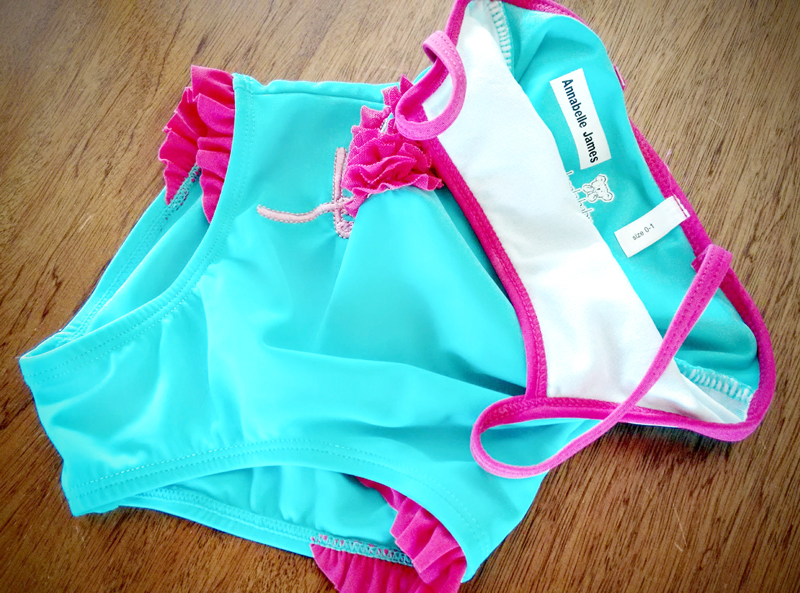 3. Slippers & Gumboots
Madeleine and Juliette attend the local Montessori school and Annabelle just started a month ago. It has a lovely homely feel to the place and during winter the children are asked to bring their own slippers to wear inside the house. Instead of carting 3 sets of slippers back and forth 3-4x a week we purchased an extra pair of slippers to keep at Montessori in the children's own cubby holes. Hence, I needed a way to label the slippers clearly with their names so they could see it and the teachers could see it – again I just used the Name It Iron On Clothing labels.
The girls are very lucky to have these slippers. They are so very warm and were actually gifts from Grandma. Supposedly they are made from the offcut material from original Ugg's and the factory making them sew the smaller offcut bits and pieces together to make these Kids slippers -hence why they are all two tone/colours. They are so comfortable and great quality and I didn't want them to go mysteriously missing. I needed to work out a way to clearly label them without using a marker pen or anything else messy.
Again it was so easy using the Name It Iron On Clothing Labels along with our home iron and ironing straight over the label on to the slipper. Once initially adhered I went over the label 3-4 more times at least to make sure none of the edges where sticking up, and I checked the label again after it had cooled down. One needed another burst of heat from the iron. They've lasted the whole winter. The girls will probably outgrow the slippers before the slippers get worn out – when this happens I plan on just ironing a new name label over the top of the old one.
There is also a photo of their gumboots. I used a Name It Iron On Clothing Label because the inside of the gumboots had a soft fabric type lining.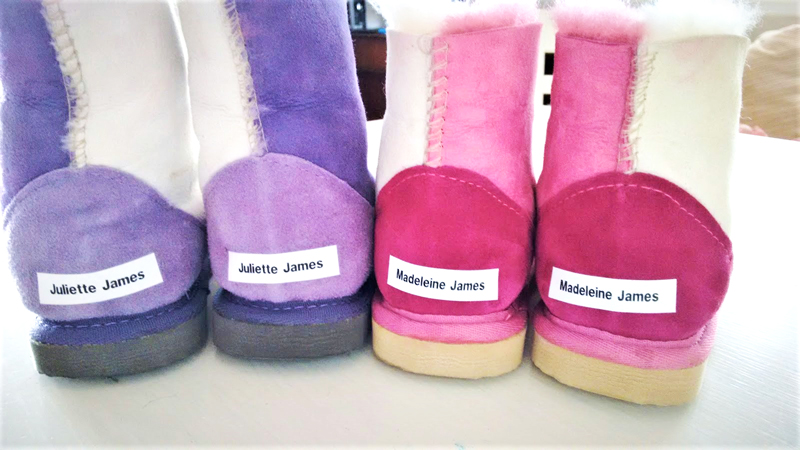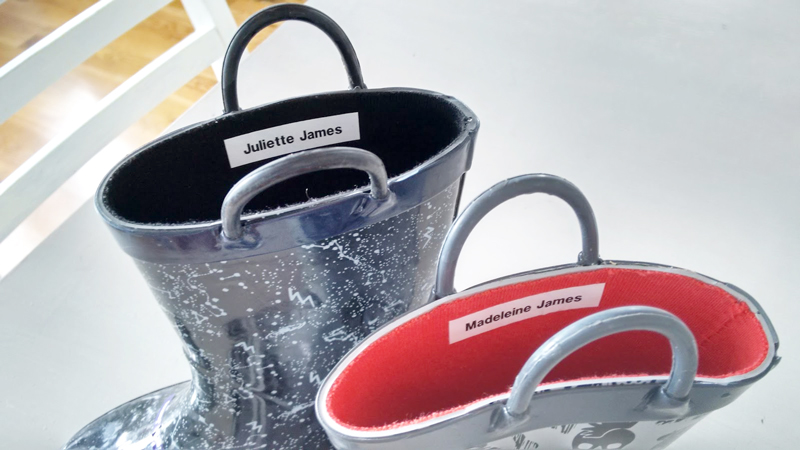 4. Hats, Hats and more Hats!
I have written a whole blog on how wonderfully easy it is to label all sorts of hats with Name It Iron On Clothing Labels. Hats are again an item that is often lost or misplaced. At schools and Kindergartens there are always many hats in the lost property or sitting unclaimed in a basket.
Most hats are made of cotton, nylon, polyester materials so the Name It Iron On Clothing labels will work fine. It's just a matter of finding a good place to put the label on the hat and then using your normal home iron to apply the heat to iron directly over the label and adhere it to the hat – winter beanie or summer hat.
As you can imagine with four girls, we have a lot of hats in our house. Hats aren't cheap either and when you find the perfect hat you don't want it lost. Here are some examples of the hats in our house which have all been labelled using the Name It Iron On Clothing Labels.