Sequential labelling is a unique way to label many items within a catalogue or team uniform, with their own individual number. This is ideal for labelling your organisations's uniforms, sport's clothing, or any items that are loaned or hired on a regular basis with a series of numbers. Ideal for a theatrical wardrobe or costume hire centre who may need to keep track of all their clothing items.
All your items can be individually numbered and they you can then keep a master list. With our iron on clothing labels, there is enough room for two lines - for instance, the dramatic society on the top line "Rose Centre Theatre" and then on the second line underneath you could categorise the wardrobe items e.g. "1920's theme 001-200" or "Classics 01-99". You could keep track of jackets and pants by doing "Jackets 01-50" and "Pants 01-50". And easily the same applies for netball or soccer uniforms or other clubs and teams. We have lots of experience in this type of thing, so please contact us with any special requests or ideas on what you are trying to label and we can help work out the best way.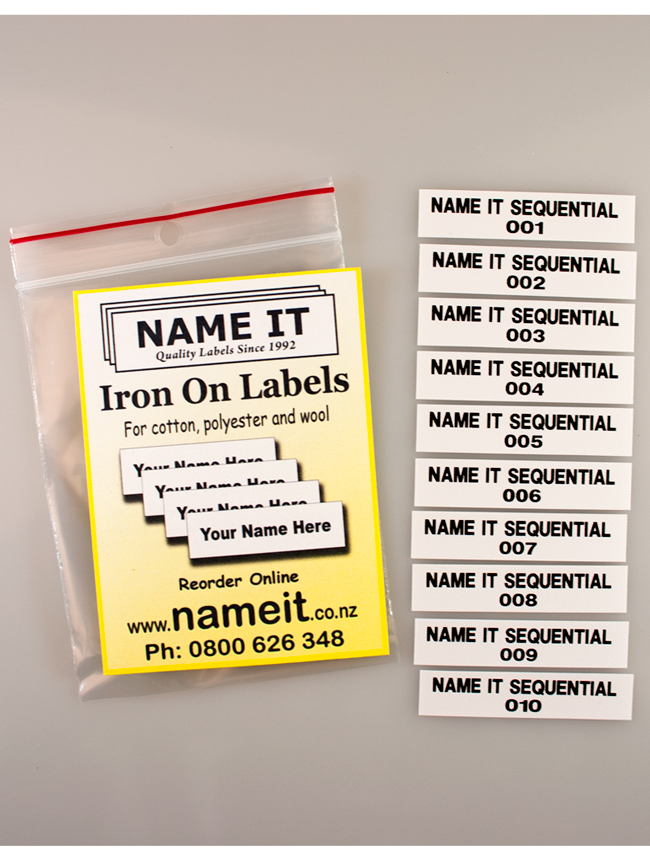 HOW TO ORDER ON LINE:

Go to our iron on labels page and select the total number of labels you require. Then fill in the top and bottom lines with what the first label would look like. Then in the comments section, explain your sequence of numbers and write how you would like your labels numbered (ie. start at 100 and go up to 199 in increments of 1).
It's that easy :)

Don't hesitate to contact us if you have any questions or problems when ordering.
Click on this link to go straight to the iron on labels page.